The Pacific Travels of Loose Pointer
<![if !vml]>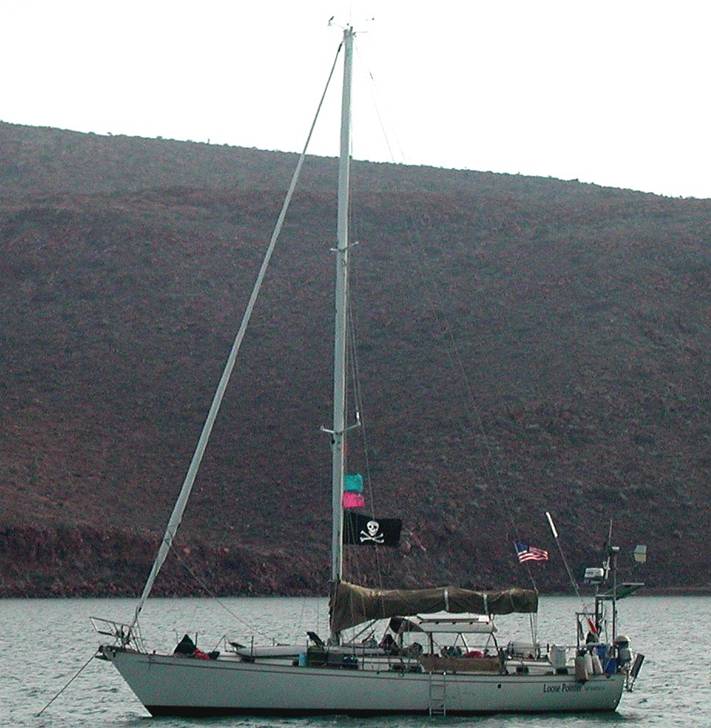 <![endif]>
In the fall of 2010, it was time for another cruise.  While back in California, my little sister has passed away unexpectedly and as a result, we had our nephew, Adam now so we needed a bigger boat.  We had purchased our Kelly-Peterson 44, Loose Pointer, a year before and you can click here to see some photos of it and some details of how it was equipped when we bought her. it we were eager to get back out there and take off over the horizon again.  The larger boat gave us a lot more room for "stuff".  So this time, we had a SCUBA compressor, 3 complete sets of SCUBA gear and two dinghies (we figured with a teenager along, unless we wanted to be stuck on the boat a lot, we needed a 2nd dinghy – we were right).
This time, we traveled for a year and a half journeying around the Pacific and finally getting as far away as New Zealand.  From there, Kathryn and Adam (by now going by his middle name, Walker) flew back to California and our older boy, Brian flew down to help me bring the boat back home, a journey in its own right with its own adventures.
These are some photos we took during our travels and the personal journal I kept to keep family and friends back home up to date.  The journal entries were emailed back to everybody as they were written so that they could vicariously come along with us.  I've presented them here as they were written (complete with some typos and grammar errors - though I tried to keep them to a minimum).  Some of them read a bit like a checklist, but I've tried to keep that to a minimum as well.  I hope you enjoy them.
<![if !supportLists]>1. <![endif]>United States
<![if !supportLists]>2. <![endif]>Mexico
<![if !supportLists]>3. <![endif]>Polynesia
<![if !supportLists]>4. <![endif]>Cook Islands
<![if !supportLists]>5. <![endif]>American Samoa
<![if !supportLists]>6. <![endif]>Tonga
<![if !supportLists]>7. <![endif]>New Zealand